Many travelers visiting Nepal are drawn to the towering peaks and mountain life. Just like that, many travelers also love to hike and go peak climbing. Not many know but there is array of adventures for travelers and adventurers in Nepal like rafting, kayaking, and mountain biking to name a few. One can go from simple adventure to nerve-racking adventure in Nepal.  The altitude ranging from 2000m to above 8000m in the Nepal's geography is something amazing. Thera are plethora of adventures to try in Nepal. That said, here are the top 5 adventure sports in Nepal for you to try.
1. Paragliding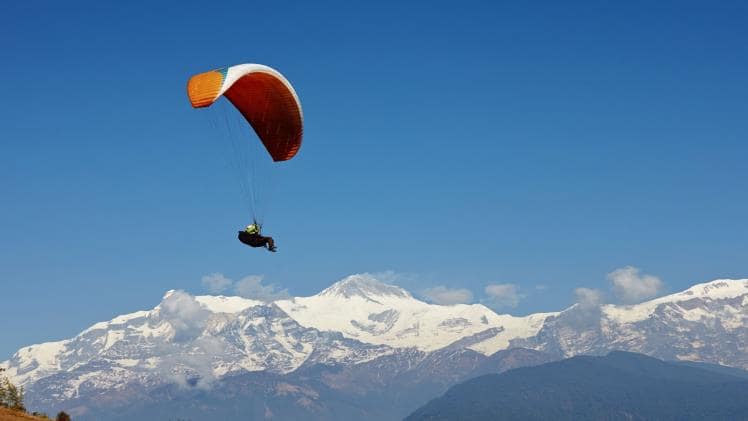 Paragliding in Nepal is definitely a must-do adventure. The towering peaks and the incredible scenery are something amazing. If you have ever dreamt of soaring high in the sky, nothing can beat paragliding as the adventure sports.
Paragliding in Pokhara is a popular spot in Kathmandu. You can witness the Annapurna range from Sarankot while paragliding. Apart from Pokhara, you can do paragliding from Chapakharka, Kot Danda, Godavari, Bandipur and Phulchowki. You can hire experienced pilots for paragliding.
2. Motorbike Tour
A motorcycle tour in Nepal is a unique way to embark on an adventure to explore and enjoy. Motorcycle tour in Nepal lets you hop on a motorcycle and traverse some amazing motorable roads to the mountains, and finest cities. If you hate to trek for days on end, you can opt for motorcycle tours. Worried about owning a bike or paperwork? You shouldn't because there are travel companies out there who can assist and host your motorcycle tours.
The diverse landscape, warm hospitality and magnificent mountains are some prime reasons to do a motorcycle tour. You can go on a tour to Pokhara, Chitwan, and Lumbini which are not challenging. And if you love to ride on challenging routes off-road, you can ride to Upper Mustang. It will take you at least 10 days to complete a motorcycle tour to Lo-Manthang.
3. Rafting and Kayaking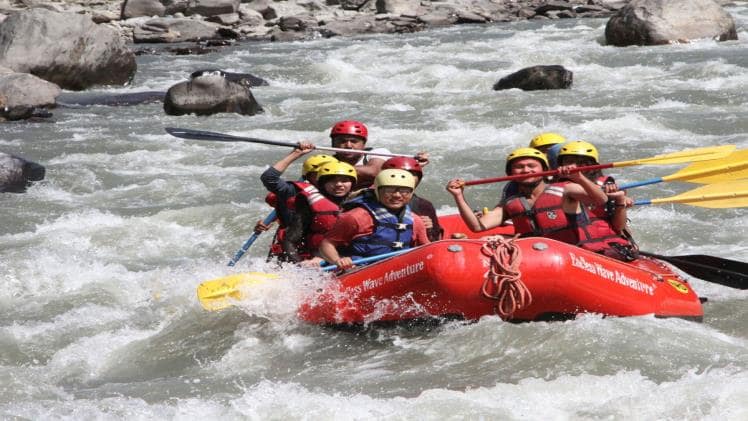 Sports like white-water rafting is equally popular among adventurers in Nepal. You can go rafting or kayaking on the rushing river, backdropped by hills, towering peaks, and stunning landscapes. Most rivers in Nepal are adorned by white sandy beaches that are perfect for camping.
Trisuli, Seti Khola, Bhote Koshi, and Kali Gandaki rivers are some of the most popular rivers for white-water rafting in Nepal. One thing to keep in mind is that you must hire a professional rafter and kayak instructor who have been working for years. This is because they are used to the rushing and currents of the waters and also knows nitty-gritty of the rafting process. You must always consider safety first for adventure like this.
4. Mountain Biking
One of the unique ways to explore the mountainous region of Nepal is on a mountain bike. You can explore city areas as well as remote areas. One thing is sure you will get many opportunities to embrace the magical mountains.
You can hire a decent mountain bike in Kathmandu and Pokhara and for a guided tour, there are many travel agencies running amazing tours every year. You can also cycle to Everest via Jiri. Please remember, bringing bike from home is not recommended because you will have to go through a lot of hassle and stress.
5. Skydiving
Last but not least, we have skydiving. Imagine running off the plane and in just a second catching the sight of the Everest and giant mountains. That's skydiving in Nepal. One downside though is the cost. We have to admit that this skydiving is the best adventure sports in Nepal, but very few are lucky to have it done.
Like trekking and hiking, there are company out there who organize skydiving in Nepal, accompanied by professionals. The good part of skydiving is that no prior trekking experience is required for it. Let's get the idea of skydiving in Nepal:  You will get off from the helicopter above the clouds tied up with the instructor and land with parachute in the vast open field.